Proofreading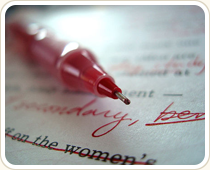 We offer both electronic and hard-copy proofreading.
We perform electronic proofreading of text documents in Word, Excel, PowerPoint as well as in the formats PDF, RTF and more.
We check spelling and grammar, stylistics and the presentation of translations.
We also provide a pre-print (typographic) proofreading – unification of graphic elements, hyphenation, insertion of fixed points and more.
Corrections are carried out exclusively by native speakers or an experienced language professional. Our objective is to deliver an absolutely flawless text without any grammatical and stylistic mistakes or typing errors.
Proofreading - what we do best
Most of the time we proofread websites, essays, papers, various written speeches and literature.
In addition, we proofread all text documents - printed periodicals material of informational and promotional character - catalogues, brochures, flyers, invitations press releases and much more.
We provide proofreading and editing services in extremely fast times and at a very reasonable price.
Format corrections made
We deliver the corrected text or text after proofreading in several resulting formats of your choice.
Text can be supplied as:
Proofread text – the correction is done directly into the original file. We correct and overwrite the text directly in the supplied document.
Document with tracking changes - this is a classic word comparison. We perform a correction which is subsequently compared with the original. The result is colour-coded errors in places where we have intervened in the text.
Prices for proofreading services
Proofreading in Czech and Slovak CZK 130 / SP
See the complete price list of our services.
Quick Contacts
Quick contacts for your questions and orders: