Interpreting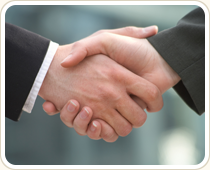 We will ensure translation and interpreting services for various occasions such as training, lectures, business negotiations, conferences, meetings, weddings, fairs and more.
Interpretation is provided in English, German and Polish anywhere in the Czech Republic and abroad.
Interpreter's work is very demanding on speed and decisiveness. A translator has a greater freedom in translation accuracy than translators. On the contrary, he should not care too much for detail. The condition is to capture the core of the idea as closely as possible, knowing that he simplified it somewhat.
Types of interpreting
At present, we are dealing with these types of interpreting:
consecutive interpreting
simultaneous interpreting
telephone interpreting
escort interpretation
Consecutive interpreting (escort)
This type of interpreting is most frequently used.
During consecutive interpreting, the speaker speaks in shorter intervals and the interpreter subsequently translates into a foreign language. This type of interpreting is most often used in business negotiations, seminars, conferences, meetings, etc.
Simultaneous interpreting (booth)
The speaker's speech is simultaneously interpreted during his speech. It is used primarily for international conferences, seminars and congresses. In the case of booth interpreting, two interpreters switching after a certain time have to be ordered.
Simultaneous interpreting is a very demanding activity. For simultaneous interpreting, it is recommended to order more interpreters who should periodically rotate (after about 20 minutes).
Simultaneous interpretation ("chuchotage")
The translator translates simultaneously with the speaker by whispering directly to the listener's ear, without using any equipment. This type of interpreting is suitable for one or two listeners.
Telephone interpreting
We offer the possibility of interpreting in the form of teleconferences, or the customer communicates to us what he needs, then we will talk to the other party on the phone and brief the customer on the other party´s statements.
Accompanying interpreting
This type of interpreting is suitable for inspections of factories, monuments or on the occasion of various social programs.
Price list for interpreting
Interpreting in English and German CZK 5 500/day.
See the complete price list of our services.
We charge for interpreting using daily and half-day rates.
All prices are exclusive of VAT.
Quick Contacts
Quick contacts for your questions and orders: